Battery storage
Per­form­ances

&

Services
In stor­ing elec­tri­city with a bat­tery, you relieve the bur­den on the elec­tri­city grids, which the grid oper­at­ors reward with reduced grid fees. If your sites con­sume more than 1 GWh of elec­tri­city per year, check your sav­ings poten­tial with us!
Depend­ing on the con­di­tions on your site, EDF offers you two pos­sible use cases. The gen­er­ic case applies if you want to shave your plant's highest peaks through­out the year. The atyp­ic­al case applies if you want to tar­get spe­cif­ic peaks hap­pen­ing dur­ing peak hours (defined by your DSO)
Gen­er­ic use case
Here, the bat­tery is used to cap the loads of the highest peaks through­out the year. That is called ​"peak-shav­ing" and is the most com­mon application.
The energy stored in the bat­tery is used to reduce con­sump­tion peaks in order to sta­bil­ise the power sys­tem as a whole. Grid oper­at­ors reward this through reduced grid fees.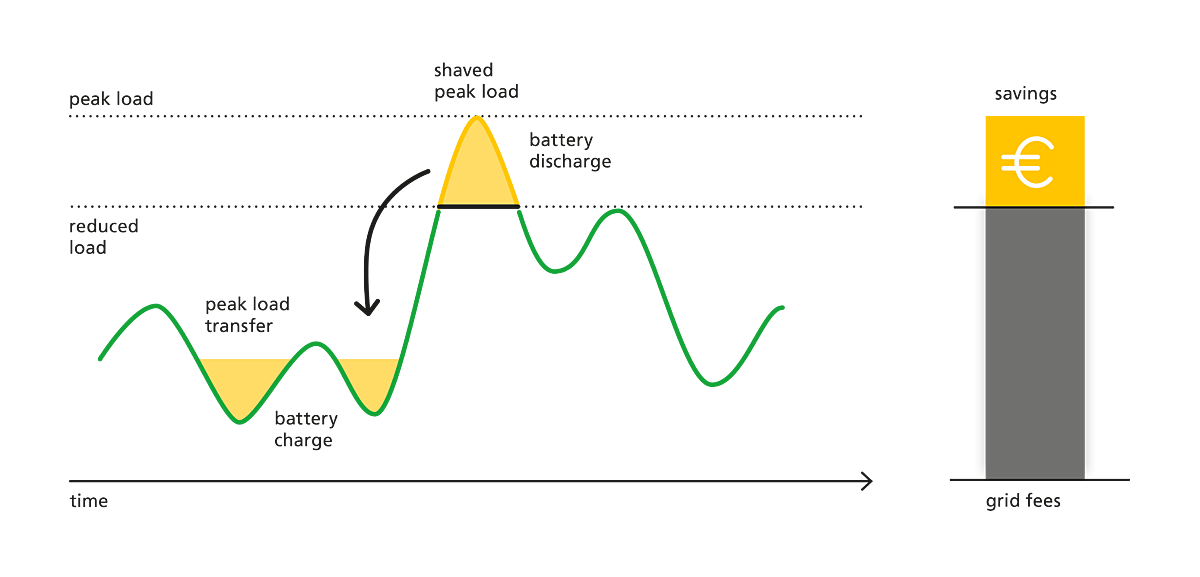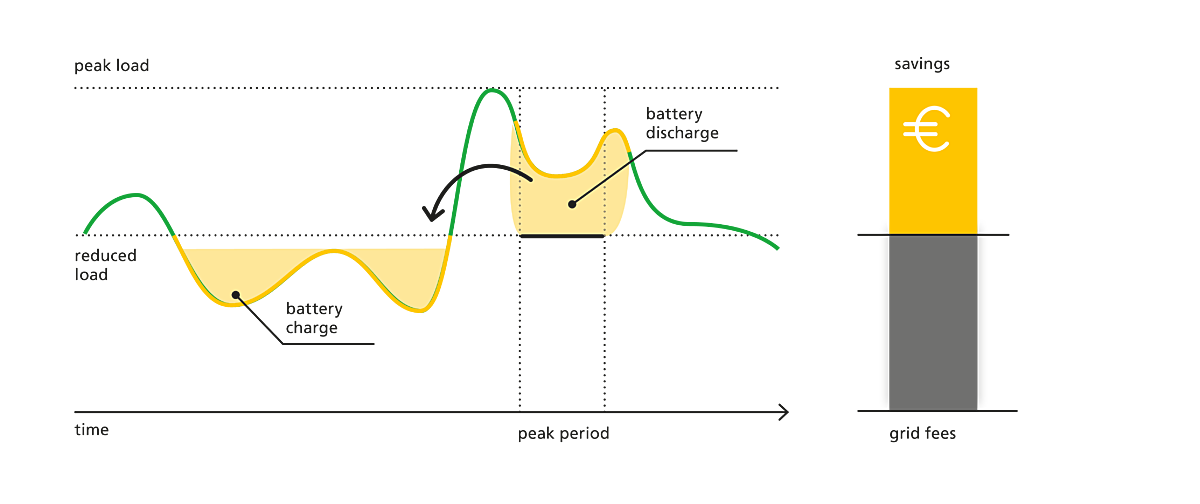 Atyp­ic­al use case
In this case, the bat­tery is used spe­cific­ally dur­ing peak hours (as defined by the DSO) and tar­gets the highest peaks.
The oper­at­ing strategy of the bat­tery will be determ­ined in ana­lys­ing the load pro­file, elec­tri­city spot prices and the level of grid fees for an optim­al and eco­nom­ic­al set-up.
Three con­tract options for your use case
If you want to use bat­tery stor­age for peak shav­ing, we can provide you with three dif­fer­ent mod­els. No mat­ter which you choose, here are your advantages:
No upfront investment
Net sav­ings from the first year onwards
Guar­an­teed bat­tery capa­city through­out the con­tract period
Reg­u­lar updates of the system
Com­fort
You find it dif­fi­cult to cap high load peaks or reduce your busi­ness's energy consumption?
We at EDF Renew­ables can provide a com­pre­hens­ive pack­age includ­ing a fixed remu­ner­a­tion rate and a com­plete hand­ling of the risks related to installing a bat­tery — even in the event of leg­al changes. We can determ­ine which remu­ner­a­tion rates are pos­sible for you based on your load pro­file. Simply get in touch with us!
Stand­ard
Are you already man­aging your loads and inter­ested in addi­tion­al sav­ings potential?
Then a cooper­a­tion with us could help you act­ively sup­port peak-sahv­ing and bene­fit dir­ectly from the sav­ings gen­er­ated. The rule is: the more cap­ping, the high­er the savings.
Assess your sav­ings potential: