Development, construction and operation of PV plants
EDF Renewables has been engaged in the renewable energy sector in Germany for more than 20 years. Since then, we have realised more than 700 MW of onshore wind projects and currently operate more than 300 MW. Another core competence is the technical and commercial asset management, including 24/7 monitoring – in addition, we offer customised battery storage solutions.
Since 2020, we have also been expanding our photovoltaic sector. Here we are growing both through our own identification, securing and development of project sites as well as through the acquisition of projects and project pipelines. Our portfolio currently comprises 17 ground-mounted photovoltaic projects with a total capacity of 529 MWp. They are located in Lower Saxony, Saxony-Anhalt, Mecklenburg-Western Pomerania and Brandenburg and expected to be in operation between 2024 and 2025 – this takes our pipeline to approximately 1.3 GW of PV projects in an early stage of development.
Seeking sites for ground-mounted PV projects
If you have vacant land that is suitable for the realisation of a PV project, we should get to know each other: we will make you an attractive offer – be it for lease or for sale.
OnSite PPA for industrial customers
Use free space such as a car park or the roof of a building on your premises for a PV system and generate your own green electricity. We take care of everything else: We plan and install the PV system on the suitable area. You then either operate this PV system yourself or purchase the electricity via a so-called Power Purchase Agreement (PPA) during the agreed contract period at a reduced fixed price.
Why we are the right partner
As part of the EDF Renewables Group, we have in-depth experience and know-how in the development, construction and operation of renewable energy projects. For you, this means that we are able to realise projects quickly and reliably.
Our strong points:
Active in the German renewables market for over 20 years
Part of a globally active group with corresponding resources: know-how, skilled staff and supplier contacts
Competent player in tender procedures worldwide, with numerous projects won in competitive bidding procedures
Good contacts with approval authorities, which ensures high realisation rates and reliable scheduling
"Optimisation" of your area by our teams enables high electricity generation by PV systems
Long-term partner who keeps projects under own operation and does not sell them in the short term to yield-oriented financial investors
We cooperate closely with communities and residents and offer both the opportunity to participate in the long-term economic success of our projects in their region
Partner network with regard to power purchase agreements (PPAs) for the short-, medium- or long-term sale of the energy produced.
Mediation of innovative solutions such as storage and / or production of green hydrogen from the yields of the PV systems
Globally experienced project developer solar energy
As part of the international EDF Renewables Group, EDF Renewables Germany can draw on many years of experience in the planning, development and construction of PV plants worldwide. This is complemented by expertise in financing, procurement of components and optimising performance.
The group is a global leader in the field of ground-mounted photovoltaics. It operates PV plants in France and North America and has recently gained a foothold in several growth markets in South America, Asia and the Middle East – worldwide, the installed solar energy capacity of the EDF Renewables Group amounts to 3,225 MWp.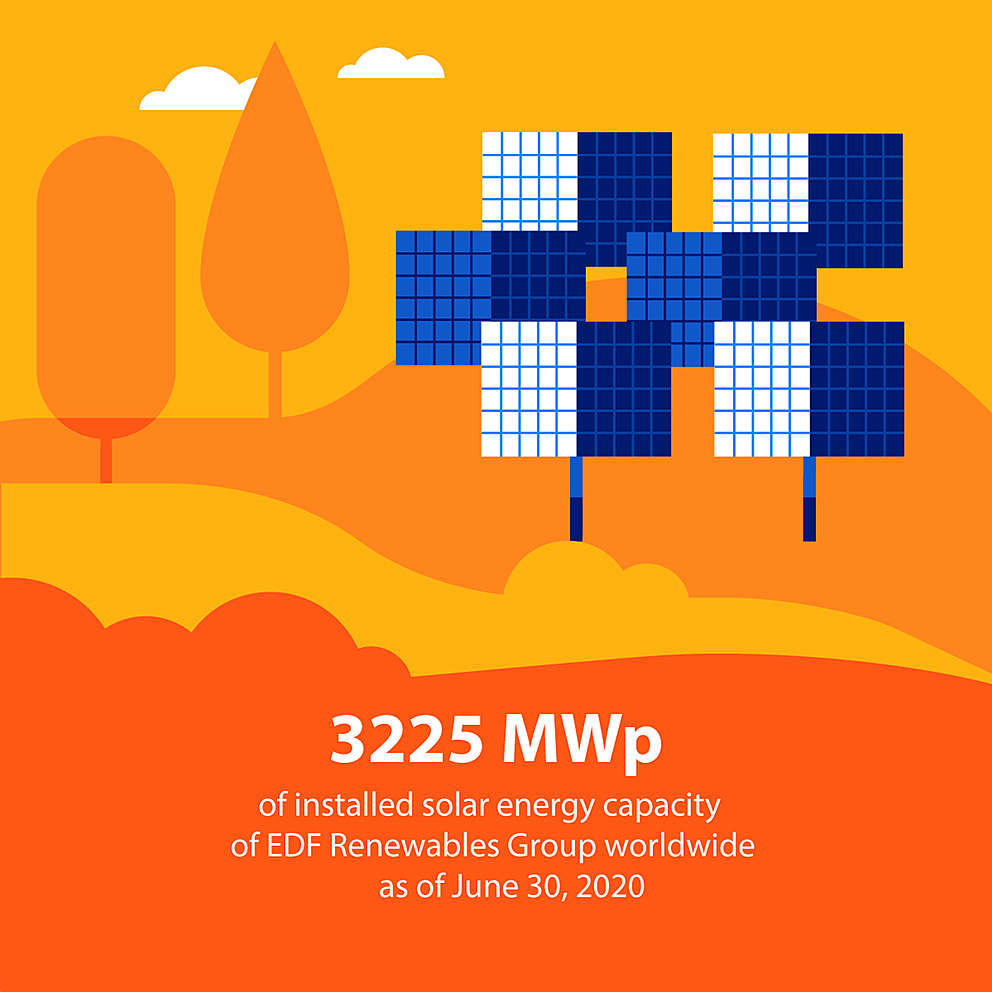 Our motivation
The German government's climate targets stipulate that 80 per cent of our electricity should come from renewables by 2030. The EDF Renewables Group is aiming for a worldwide installed net renewable energy capacity of 60 GW by 2030.
The energy transition, i.e. a sustainable energy supply including climate-neutral power generation, is an enormous challenge that we can only master together. We are part of it – are you?